Description
Cruise 3.0 T
The new Cruise 3.0 T is a 6 horsepower-equivalent drive system for sailboats up to 30 feet or displacement hulls up to 3 tons.This lightweight electric drive system runs on 24-volts (not included) and is best paired with one or more Power 24-3500 lithium-ion batteries.
Cruise motors are the electric outboard motor of choice for motorboats, dinghies and commercial users.
All Cruise systems have a built-in GPS with onboard computer and display with speed and input power, state of charge and remaining range, with a compact, low-drag, and lightweight pylon with advanced helical gear design.
Also available in remote-steered and fixed pod models.
Cruise 3.0 T – Benefits:
High-efficiency outboard with 3,000 W input power, equivalent to a 6 HP petrol outboard
Pair with Power 24-3500 for best performance and accurate range/runtime functionality
Cruise 3.0 recommended for dinghies and sailboats up to 3 tons
T model is equipped with tiller control with integrated display screen and magnetic kill switch (included in scope of delivery)
Rugged pylon with integral fin – extra protection when running aground
Highest-grade seawater-proof aluminum, hard-anodized for long service life, even in the harshest conditions
Comprehensive galvanic corrosion protection through careful matching of all materials and meticulous isolation of materials with different electrochemical properties – ships with anode set for fresh and saltwater
Also compatible with third-party batteries (24-volt) but careful matching to motor power requirements is needed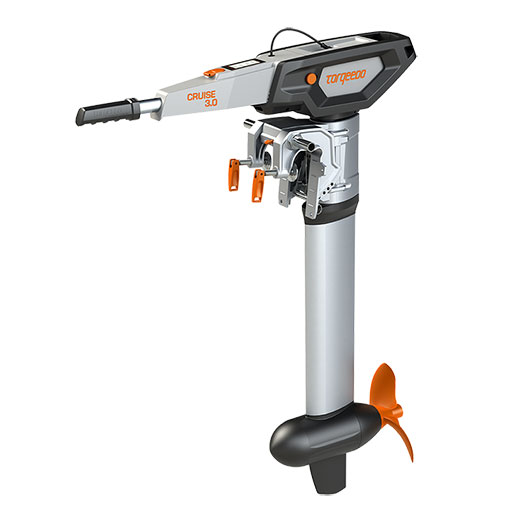 The on-board computer display provides information on the most important performance data
Technical Data Cruise
Cruise 3.0 T
Input power in watts
3000
Propulsive power in watts
1530
Comparable petrol outboards (propulsive power)
6 HP
Comparable petrol outboards (thrust)
8 HP
Maximum overall efficiency in %
51
Static thrust in lbs*
142
Integrated battery
–
Nominal voltage
24
Final charging voltage
–
Total weight in kg
19.7 (S) / 20.2 (L)
Motor weight without battery in kg
–
Weight of integrated battery
–
Shaft length in cm
62.5 (S) / 75.5 (L)
Standard propeller
v = speed in km/h at p = power in watts
Propeller B 12 x 10,5 WDR
Alternative propeller options
Propeller Guide
Maximum propeller speed in rpm
1100
Control
Tiller
TorqLink
No
Steering
360° lockable
Tilting device
Manual with grounding protection
Tilt angle
61,3°
Trim device
Manual, 4-step
Integrated on-board computer
Yes
Stepless forward/reverse drive
Yes